TESTIMONIALS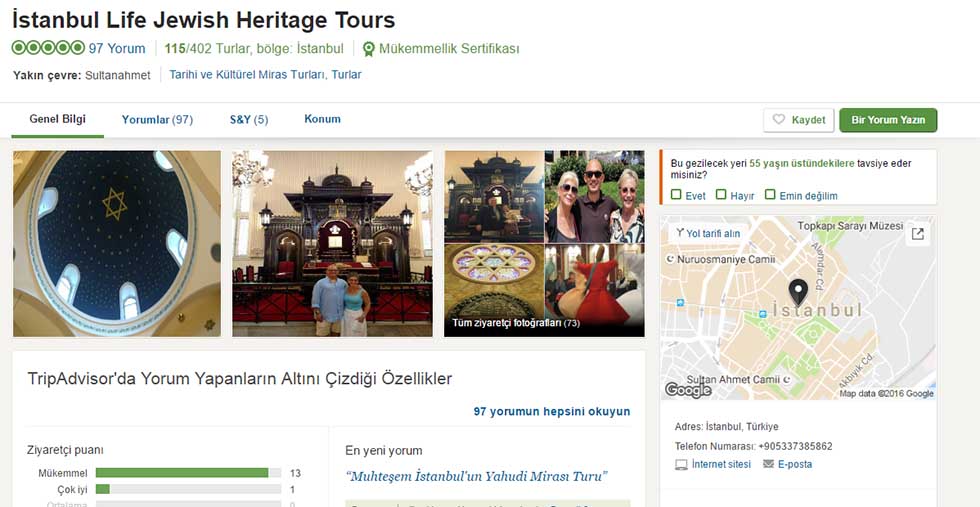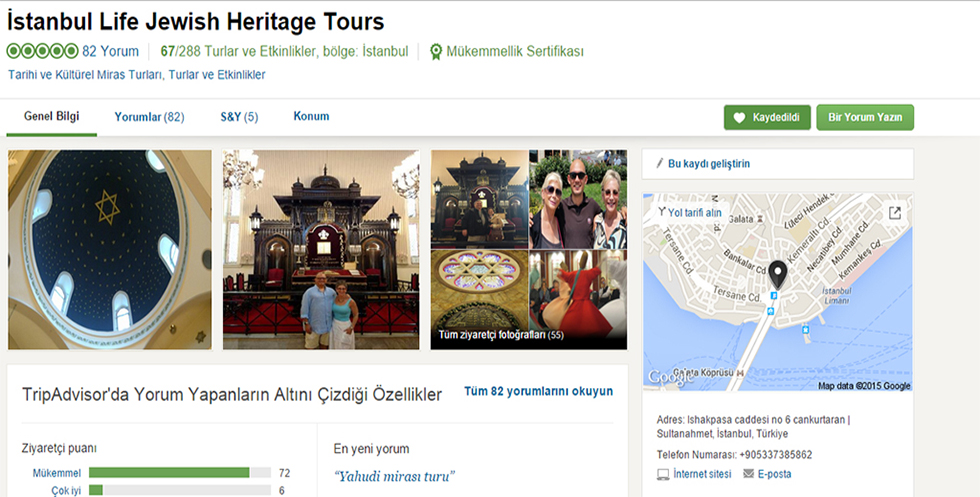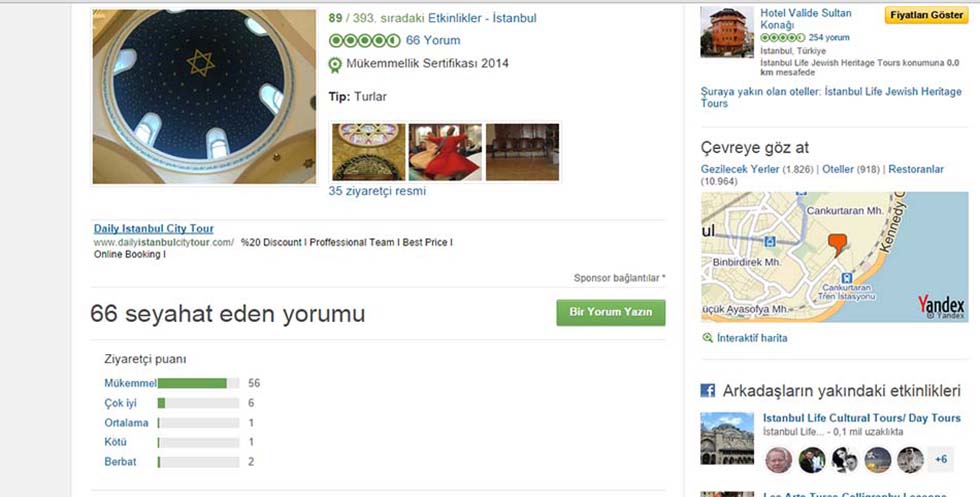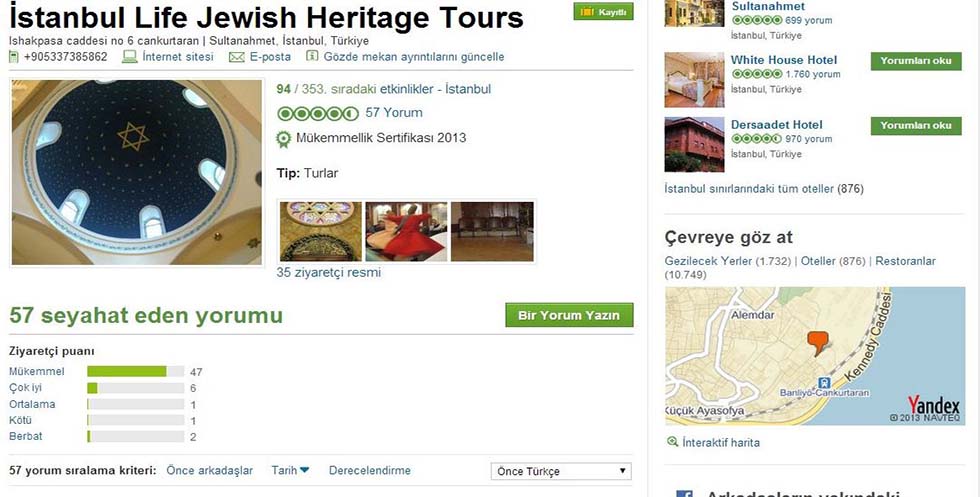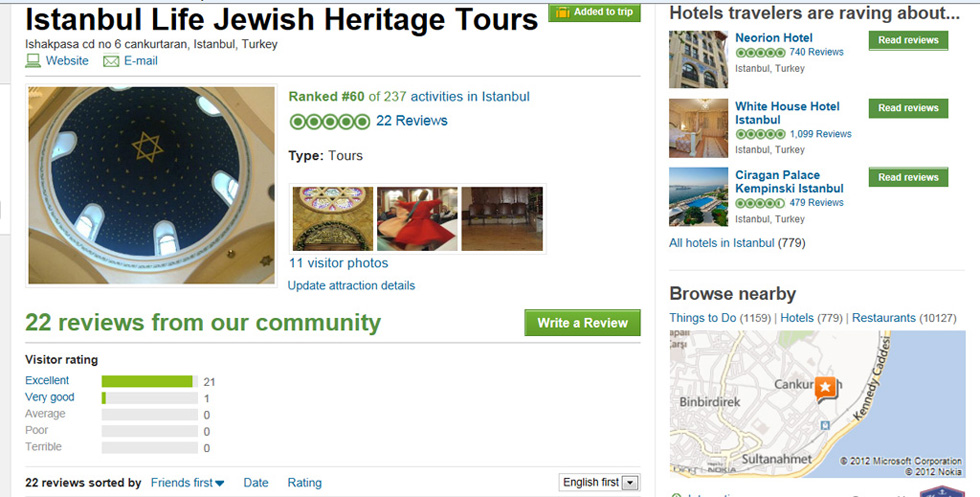 You can read our all reviews from Trip Advisor .....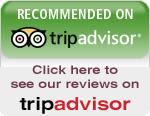 *** We chose this company for our Jewish Heritage Tour in Istanbul on the strength of trip advisor reviews & were not disappointed. We were a little hesitant about faxing through our pasport details but appreciated the security checks involved & had our photocopies returned in Istanbul. We too had Alp as our guide & found the knowledge of this young man just amazing - very easy going with excellent English skills. We particularly enjoyed having coffee & cakes at a local cafe during our walk through the Jewish area. It was also very interesting visiting a local market en route to the Spice Market which we preferred to the Grand Bazaar which is very touristy. Also our driver was just incredible the way he negotiated the very narrow roads, quite apart from the traffic itself! We would recommend this company without any hesitation particularly as they were able to arrange our tour at less than a week's notice..
***Do not hesitate to use these guys. They made our stay in Istanbul really memorable. As well as being very knowledgeable, Alp and Hakan were exceptionally friendly and could have done more for us. They not only showed us the synagogues but also arranged an excellent guide for the mosques and Topkapi Palace. We are really grateful and will definitely be going back to Istanbul!
***Due to the nature of the tour ie: Passport and 'Security Checks' this was the 1st time I have used a 'Tour Guide'...and what a total pleasure it proved to be!!!

My guide was Alp...very friendly, easy going with a great sense of humor and a wealth of information about Jewish History in Turkey which he was able to share in a personable way...as opposed to someone who simply knew the 'facts' and recited them to you.

I ended up taking a private moment and inquired about aspects of my trip in Turkey unrelated to the Jewish Tour...and was provided with insightful and useful ideas of how best to use my time...something I am deeply grateful for.

My entire journey through Turkey was made more memorable through my taking this wonderful tour.

Highly recommended.
***This Jewish Heritage Tour in Istanbul was excellent.Our guide, Alp, was knowledgeable and well spoken in English. He knew about each synagogue and was able to provide pertinent jnformation to us, He made the tour a very pleasurable experience. Just one thing needs to be mentioned. The tour requires considerable walking with hills. For us it was no problem.
***We had the most extraordinary experience . Not only did we see the synagogues but we got history of the congregations. In addition we learned about the Jew's of this country, their neighborhoods and Turkish life. We think this one of the tours we have ever taken.
Letty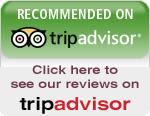 Here are the some tours that you can interested in;
*** Daily Group City Tour in Istanbul ; http://www.istanbullife.org/group-city-tours-in-istanbul/ 
*** Art and Cultural Tours in Istanbul ; http://www.istanbullife.org/cultural-toursworkshops/ 
*** Sahabe Visiting Tour in Istanbul ; http://www.istanbullife.org/tour/islamic-religion-tours/ 
*** Real Whirling Dervish Ceremony Every Thursday Night ; http://www.istanbullife.org/tour/whirling-dervish-ceremony-in-istanbul/ 
*** Touristic Dervish Ceremony ; http://www.istanbullife.org/tour/whirling-dervish-ceremony-in-hodjapasha-culture-center/ 
*** Tours in Cappadocia ; http://www.istanbullife.org/tours-in-turkey/tours-in-cappadocia/ 
*** Tours in Ephesus ; http://www.istanbullife.org/tour/daily-ephesus/ 
*** Tours in Pamukkale : http://www.istanbullife.org/tour/full-day-pamukkale-tour-by-plane/ 
*** Vip Rent A Car Service in Istanbul ; http://www.istanbullife.org/tour/rental-luxury-car-service-with-a-driver/ 
*** Jewish Heritage Tour in Istanbul ; http://www.istanbullife.org/jewish-heritage-tours-in-istanbul/ 
*** Airport Transfer Service in Istanbul; http://www.istanbullife.org/tour/airport-transfer-service-in-istanbul/ 
*** Football Match Ticket in Istanbul ; http://www.istanbullife.org/football-match-tickets/